An Institute & Innovation Center To Build Workforce With An Innovative Mindset & Advanced Skills
OUR MISSION IS TO TRIGGER INNOVATION ECONOMY
To Prepare A Workforce With Advanced Skills
To Build An Innovative Mindset
To Enable Our Young Generation With Current Knowledge
World class education in
Urdu
through Self Paced Courses, Bootcamps and Discussion Forums by top professionals


LEARNING IN A FRACTION OF THE TIME
FREE SIGN UP
No credit card is required for Free Courses, while paid content is also at a fraction of the cost
\Learnworlds\Codeneurons\Pages\ZoneRenderers\CourseCards
COMING SOON
Certification in Employment Crucial Skills
TO TRIGGER INNOVATION ECONOMY, WE AIM TO SET MINDSET & DEVELOP ADVANCED SKILLS FOR
#Innovation | #Entrepreneurship | #Creativity
Our 5 Years Goal
2M+
People with An In
novative Mindset & Advanced Skills
200+
Bootcamps & Workshops
20+
Major Disruptive Innovations
200+
Self-Paced Online Courses
Frequently asked questions
How is Propel different from conventional education?
Porpel is different from conventional education in many ways:
Propel's mission is to fertilize innovative mindset through our trainings VS Conventional education has very less room of letting students to think out of box.
Propel offers fast paced education, building competency of learners VS Conventional education works vertically and builds capacity of a student by introducing the concepts one by one over years.
Propel is creating affordable accessibility to instructors those are working professionals from Pakistan and diaspora with 10+ years of experience VS High quality standards in conventional education are available only to certain elites who can afford expensive education

Propel offer only industry-driven latest knowledge. Our subjects and training modules are constantly updated VS It is very difficult to upgrade curriculum of conventional education because of complex systems
Who can attend Propel courses?
Anyone & Everyone :)
Students, Upcoming Workforce, Currently Working Workforce, Teachers, Managers, C-Level, Executional Teams, Strategy & Planning Teams, etc.

PROPEL OFFERS AGE-LESS EDUCATION
What courses do you offer?
Propel's education system is Flexible & Applicable to almost every vertical. Our process is:
1- Take demand from industry
2- Find the best match professional for the requirement
3- Collaborate with professionals & deliver that training

Though here is a general list of areas where we will be working more aggressively:

Creative | Innovation | Design Thinking | Leadership | Game Design & Development | Product Design & Management | Emerging Technologies | Artificial Intelligence | Machine Learning | Advertising & Marketing | Brand Development & Management
Will you offer certificates?
We are working on a certification in collaboration with local and international companies from Silicon Valley. This certification covers 8 essential skills that every employee should have for growth in this decade.
This kind of certifications are already appreciated by top companies of the world and they prefer such certifications over conventional degrees.
We will soon be offering following certification: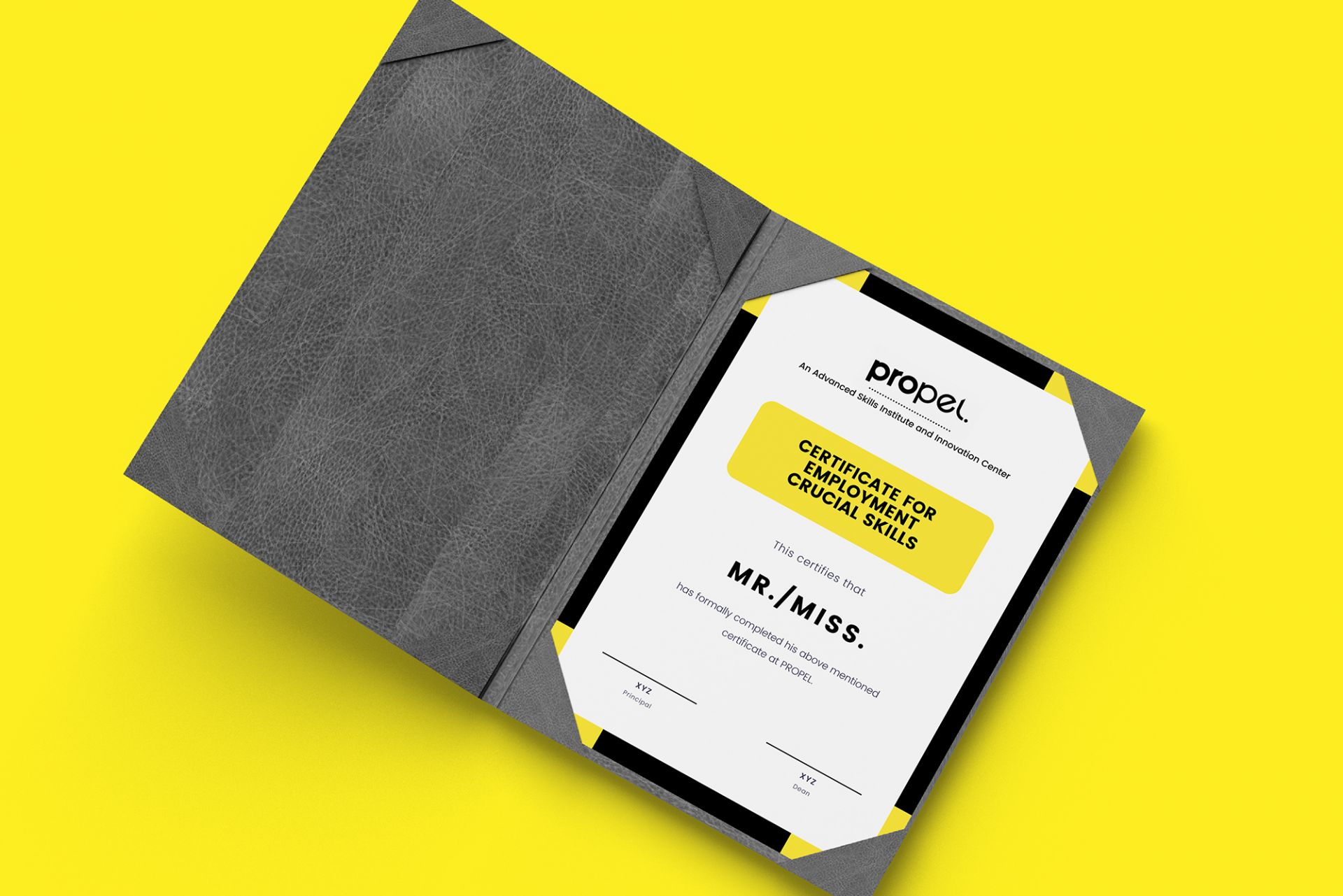 Is there any minimum qualification required to join Propel?
There is no minimum qualification required. All that can make you successful is your passion for the subject that you want to learn.

Fast paced advanced education is very aggressive by nature. Our instructors aim is to give you exposure of new things those can benefit you for your career. They condense years of experience into few days of trainings. That means the learners has to be very attentive and vigilant during this process.

You cannot learn everything about the subject in few hours but with the kind of training we offer, your exposure and mindset changes that will lead you to effort of deep learning by yourselves.
What type of trainings do you offer?
Our training activities are as follows:
Bootcamps
Workshops
Seminars
Meet The Masters (Live Q&A with masters)
Teacher's Trainings
Corporate Trainings
What will be the duration of your courses?
Our live Bootcamps are maximum of 6 days (9am-5pm) :)
Workshops are of maximum 2 days.
Seminars are of few hours.
Meet the Masters are of two hours.
On the other hand all of these are available online as self-paced courses and you can learn as per your own pace.
SECURE YOUR FUTURE & SIGN UP NOW
Companies & Government representatives can Get in touch now to explore partnership opportunities
STUDENT MAY CONNECT TO OUR SOCIAL MEDIA
Created with